Summer Road Trip Series: Lake Superior Circle Tour
With kids finishing up with school across the country, families are ramping up for summer road trip season. For the first stop on our Summer Road Trip Series the Curren family, of Currently Wandering, takes us on a 1,300 mile circumnavigation of Lake Superior. Check out ambassador Jess Curren's original blog post here.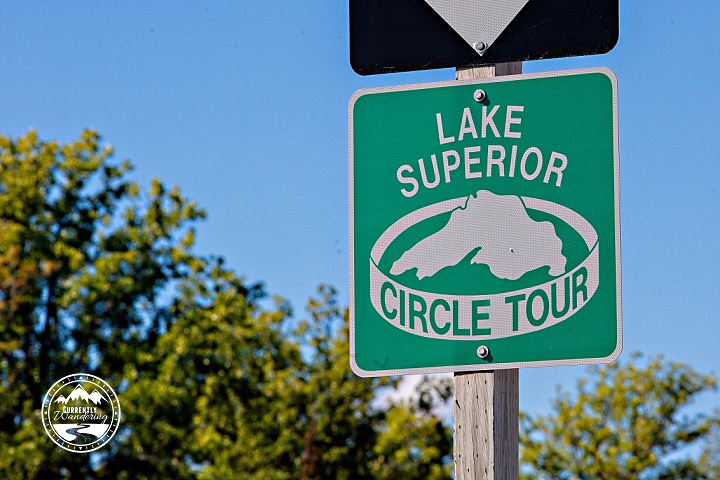 Loading up the kids in a minivan and hitting the road over summer break is a rite of passage. I figure if you can all survive being crammed together for days or weeks on end, you can do anything, right? Traveling in the Airstream is a bit different, since we mix in school & work year round but occasionally we hit upon just the right schedule to create an epic road trip.
We visited my brother and his family in Minnesota one summer, and after taking a look at our schedule and the time available we decided drive around Lake Superior. Turns out its a thing. There are patches, stickers, maps, and even a website for that, something we didn't realize until we started seeing the street signs pop up. The aptly named Lake Superior Circle Tour is a 1,300-mile drive that completely circumnavigates the lake, including the North East shore in Canada.
You can start the tour anywhere and travel in either direction. Most people take about a week, we just happened to stretch it out into 42 days. Our tour started at Pictured Rocks National Lakeshore in Michigan and traveled clockwise. While our adventures on the shores of this great lake could fill a book, we've picked out a few of our favorite destinations to get you started.
Stop 1: Michigan's Upper Peninsula
We spent 10 days exploring the "UP" as the locals call it. We started in Pictured Rocks National Lakeshore, ate a lot of pasties, learned about mining on the Keewinaw Peninsula, and hiked  in the Porcupine Mountains. There's definitely something for everyone!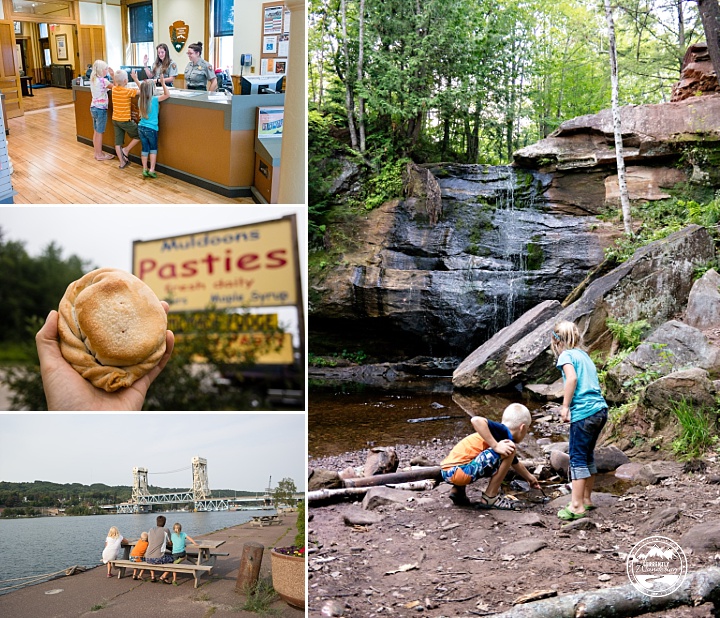 Stop 2: The Apostle Islands National Lakeshore
The Apostles are a beautiful cluster of islands that sit just off the coast of Wisconsin's section of Lake Superior. You can learn about the islands from visitors centers on the shore, but a rich experience awaits those willing to board a ferry. We opted for a two-night backpacking trip on Stockton Island. A ferry trip from Bayfield let us off onto the docks. We explored, hiked, and even celebrated Andrew's birthday there! Other popular activities include kayaking to the sea caves, and lighthouse tours.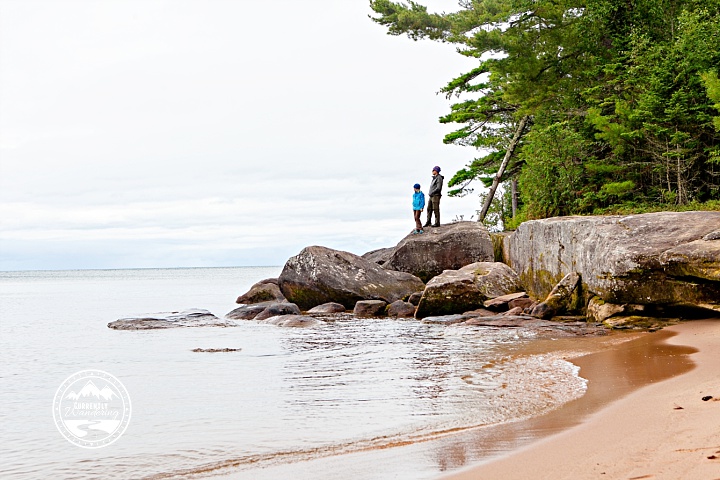 Stop 3: The City of Duluth
Duluth has a rich history in shipping activities, and you can watch huge cargo ships navigate in and out of port. Check the schedule before you arrive, and you can get an up close look as they come and go. There's also some great mountain biking in the hills, a decent children's museum, and a cute downtown with great food.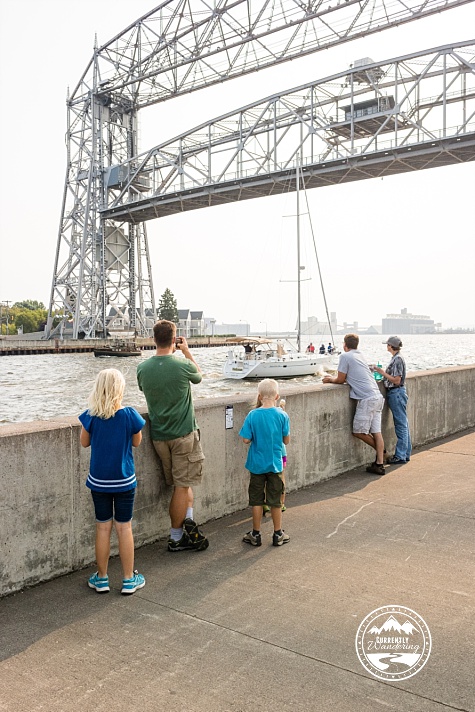 Stop 4: The North Shore
There are numerous spots along Minnesota's North Shore worth stopping for, but Gooseberry Falls State Park was a favorite. We enjoyed our time on the shore here, appreciating the magnitude of this lake we were driving around. Split Rock Lighthouse is just a short drive away and don't miss Betty's Pies located to the south. We ordered the Pig Trough to share, complete with three slices of pie, four scoops of ice cream, a banana, and whipped cream and toppings. We liked it so much we returned a few days later and had the same thing again!
Other stops along the shore included Tettegouche State Park, Grand Marais, and Grand Portage. Check out our post here for more details.
Stop 5: Sleeping Giant Provincial Park
We had heard amazing things about Sleeping Giant Provincial Park and knew we wanted to spend at least one night there. It was mid-September so fairly off season for this part of Canada and the campground was not busy. The park hosts amazing hikes and beautiful views. We also enjoyed our lakeside campsite on the smaller Marie Louise Lake.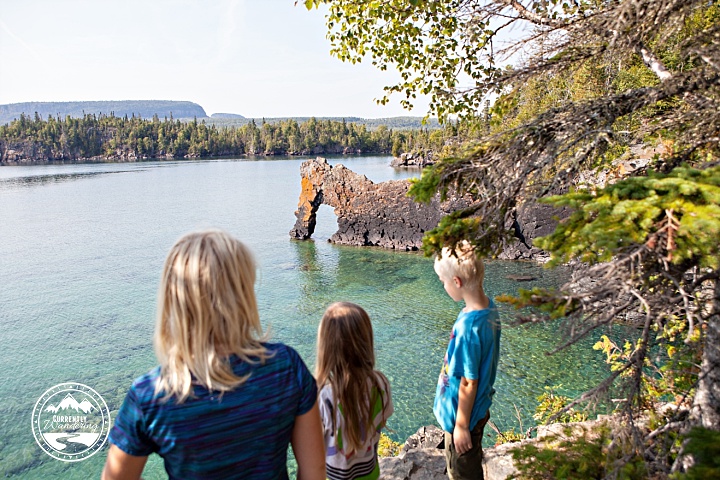 Stop 6: Sault Ste Marie
Our visit to Sault Ste Marie was punctuated by two things: Poutine (on the Canada side) and the boat locks (on the US side). Watching the huge lake boats move through the locks was enthralling, and everybody's bellies were fat and happy after we ordered (and ate) far too much from Smoke's Poutinerie.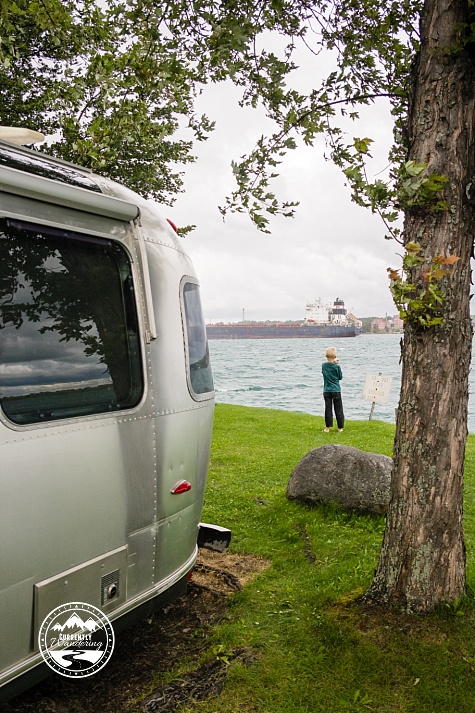 Even having driven around it, I still don't think I full appreciate the vastness of Lake Superior. It literally looks and feels like you are standing on the edge of the ocean, but there's no salt smell. Something about it just drew us in and we were smitten from day 1. It was hard to narrow it down to just a few places on our journey! Maybe we will write that book….
What to Wear:
The weather around the lake is constantly changing. There's sunshine and warmth, then there's fog & rain. We had crazy wind and were wearing all our layers on the Apostles, and then up along the north shore it was t-shirts and shorts.  Its best to plan on layering your wardrobe and taking pieces that are versatile! Check out some of my favorites from Aventura's spring line: